Our Services
Custom Window Draperies & Shades in Campbell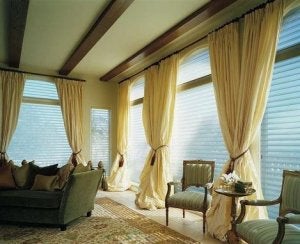 At Monique's Draperies and Shades, we have helped Campbell residents select and install window draperies and shades for more than 50 years. We offer the finest products at our store including Hunter Douglas window coverings. Our team strives to continually introduce new ideas to our customers and we always stay up-to-date on the latest window covering technologies. Regardless of your budget and style, we can help you find the best products for your home.
We provide a variety of drapery and shade services including:
Measuring: Are you unaware of how to correctly measure your current window so you can purchase new, correctly-fitting window treatments? Don't worry—we can help you measure your windows to ensure a perfect fit!
Installation: Once you purchase new window treatments from Monique's Draperies and Shades, our team can help you install them so you can enjoy your new window coverings within a timely manner. Our installers are highly trained, so you can rest assured every item is installed correctly.
Manufacturing: Not only do we sell brand-name items, we also manufacture our own window covering systems! Our manufacturing team has years of experience and produce custom, unique, and absolutely stunning window treatments you can enjoy for years to come.
Repair: Are your current window treatments broken or damaged? Monique's Draperies and Shades offers repair services for almost any type of window treatment! From broken blinds to damaged shade rollers, we can help ensure your window treatments function correctly as soon as possible.
Home Consultation: If you are unsure about what type of window treatments you want or need for your home, our team is available for free home consultations! We can visit your home and help you select the best, most affordable window treatments that will compliment your home.
Take advantage of our innovated design, measuring, installation, manufacturing, and repair team today! Call us at 408-347-8100 today to learn how we can help you select or repair window treatments.